Article information
Abstract
Full Text
Bibliography
Download PDF
Statistics
Tables (3)
Table 1. Social network representation of public and private neurosurgery departments, scientific institutions and peer-reviewed journals.

Abstract
Objective
To analyse the current situation in Spain of the use of Social Media in Neurosurgery.
Materials and methods
We made an observational transversal study between February and March 2017, with a systematic search of the Facebook, Twitter and Youtube accounts from public and private neurosurgical units, scientific societies, peer-reviewed publications and patients groups in relation with Neurosurgical pathologies. We rank them according their popularity.
Results
According of our search only 5 public neurosurgical services have Social Media accounts, being their popularity inferior to the private units accounts. In relation with the scientific societies and neurosurgical publications their presence in Social Media is marginal, even more in comparison to the accounts of other medical specialities. The popularity of associations of patients and supporting groups is high, especially among patients, finding there more information about their disease.
Conclusions
The use in Spain of Social Media about Neurosurgery is low in comparison to other medical specialities. There is a huge field to improve the popularity of the accounts, making in them promotion of health and extend the diffusion of the scientific society and the peer-reviewed publication Neurocirugía.
Keywords:
Neurosurgery
Social Media
Facebook
Twitter
YouTube
Resumen
Objetivo
Analizar la situación actual en España del uso de redes sociales en Neurocirugía.
Materiales y métodos
Se realiza un estudio transversal y observacional entre febrero y marzo de 2017, mediante una búsqueda estructurada de las cuentas en Twitter, Facebook y YouTube de los servicios y unidades de Neurocirugía, sociedades científicas, publicaciones y asociaciones de pacientes relacionadas con la Neurocirugía. Se clasificaron según su popularidad.
Resultados
Según nuestro estudio solo 5 servicios de Neurocirugía de la red pública tienen presencia en redes sociales, siendo inferior su popularidad a la de las unidades privadas. Las sociedades científicas y revistas neuroquirúrgicas tienen una presencia marginal, más aún en comparación con las de otras especialidades médicas. La popularidad de las asociaciones y grupos de apoyo es alta, sobre todo entre los pacientes, encontrándose mayor información sobre enfermedades que en las cuentas corporativas.
Conclusiones
El uso en España de las redes sociales en Neurocirugía es bajo, en comparación con otras especialidades médicas. Existe un amplio campo de actuación para mejorar la popularidad de las cuentas, la difusión de la sociedad científica y la revista Neurocirugía y realizar funciones de promoción de la salud.
Palabras clave:
Neurocirugía
Redes sociales
Facebook
Twitter
YouTube
Article
These are the options to access the full texts of the publication Neurocirugía (English edition)
Member
Member of the Sociedad Española de Neurocirugía
If it is the first time you have accessed you can obtain your credentials by contacting Elsevier Spain in suscripciones@elsevier.com or by calling our Customer Service at902 88 87 40 if you are calling from Spain or at +34 932 418 800 (from 9 to 18h., GMT + 1) if you are calling outside of Spain.
If you already have your login data, please click here . p>
If you have forgotten your password you can you can recover it by clicking here and selecting the option ¿I have forgotten my password¿.
Subscribe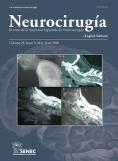 Subscribe to
Neurocirugía (English edition)