Received 31 October 2017, Accepted 15 March 2018
Article information
Abstract
Full Text
Bibliography
Download PDF
Statistics
Abstract
Papillary tumor of the pineal region is a rare neuroepithelial tumor characterized by papillary architecture and epithelial cytology, immunopositivity for cytokeratin and ependymal differentiation. It is considered grade II–III by the World Health Organization and was first described by Jouvet in 2003. We present a 34-year-old male with headaches, blurred vision and normal examination. Radiological study showed a nodulocystic lesion in the pineal region compatible with pineocytoma. Surgery was performed using an infratentorial supracerebellar approach, finding a cystic tumor in the quadrigeminal cistern which was completely resected. Histopathology reported a papillary tumor of the pineal region. The patient made good progress without adjuvant therapy, and after 57 months of follow-up he remained asymptomatic and free of recurrence. A review of the literature was performed to collect all the cases published with gross total resection and no complementary treatment. In conclusion, there is still much to be learned about the pathogenesis, prognosis and management of this tumor.
Keywords:
Hydrocephalus
Pineal gland
Pineal gland tumor
Immunohistochemistry
Abbreviations:
PTPR
WHO
CT
MRI
CBV
CSF
CK
GFAP
EMA
GCT
AFP
β-hCG
GTR
Resumen
El tumor papilar de la región pineal es un infrecuente tumor neuroepitelial con arquitectura y citología epitelial, citoqueratina positiva y signos de diferenciación ependimaria. Descrito por Jouvet en 2003 es considerado grado II-III de la Organización Mundial de la Salud. Presentamos el caso de un varón de 34 años con cefalea, visión borrosa y exploración normal. El estudio radiológico muestra una lesión noduloquística en región pineal compatible con pineocitoma. Es intervenido mediante abordaje supracerebeloso infratentorial apreciándose lesión de aspecto quístico en cisterna cuadrigémina que es resecada por completo. El resultado histopatológico es tumor papilar de la región pineal. El paciente presenta buena evolución sin tratamiento adyuvante y tras 57 meses de seguimiento permanece asintomático y sin recidiva. Realizamos una revisión sistemática sobre la evolución de los casos publicados tratados mediante resección completa y sin tratamiento complementario, concluyendo que continuamos necesitando aprender sobre la patogénesis, pronóstico y manejo de este tumor.
Palabras clave:
Hidrocefalia
Glándula pineal
Tumor de la glándula pineal
Inmunohistoquímica
Article
These are the options to access the full texts of the publication Neurocirugía (English edition)
Member
Member of the Sociedad Española de Neurocirugía
If it is the first time you have accessed you can obtain your credentials by contacting Elsevier Spain in suscripciones@elsevier.com or by calling our Customer Service at902 88 87 40 if you are calling from Spain or at +34 932 418 800 (from 9 to 18h., GMT + 1) if you are calling outside of Spain.
If you already have your login data, please click here . p>
If you have forgotten your password you can you can recover it by clicking here and selecting the option ¿I have forgotten my password¿.
Subscribe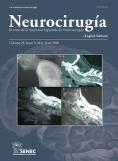 Subscribe to
Neurocirugía (English edition)